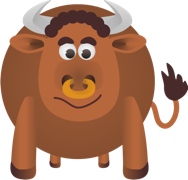 As the creative and entrepreneurial rule of the Rat comes to an end on the 26th January 2009, we are ushered towards the comforting presence of the paternal Ox.
Strong, humble and industrious, the next twelve months promise to offer huge rewards to those who apply themselves diligently and go the extra mile. Just don't expect a pat on the back. The Ox is the strong and silent type; superfluous gestures are not a part of his physical vocabulary. If you have been given an important job, then you can assume you are in his good books.
The Ox influence will have everybody taking on more responsibilities, working hard and staying on the long narrow road rather than opting for short cuts. Those that do go off in search for an easy way out will find dead end after dead end. Stick to the road and trudge along. It might not be easy, but it's worth it.
Interestingly, the credit crunch that we saw in 2008, the year of the Rat, created an environment ripe for bagging bargains, house prices came down and if you were prepared, you could profit greatly. It perfectly reflected the opportunistic Rat. 2009 will see many people trying to increase the value of their assets so may plan extensions or redecorations of their homes with this in mind. This perfectly reflects the Ox's love of cost effective home improvements. Many Ox signs, male and female are extremely capable DIY enthusiasts and spend much of their free time pursuing such activities.
The projects started last year in the instigating phase of the Rat may need a strong infusion of persistent hard work and prudent resource management to see them through to the next level. That is where the Ox takes over. The vision has been decided, now the Ox provides intense labour without complaint.
Even though they can be the nicest, most genuine of all signs with the best of intentions, there tends to be something autocratic about the way Ox signs work. Most people make allowances for this as it is just the way they are. In the year of the Ox, this trait is magnified and its influence may spread to other signs also. Even so, it is not wise to choose this year to try and do something about it. Wait just one year for the rebellious Tiger influence to fall upon us, then, say what you want. For now, say, "Yes Sir" and get back to work.
If you can imagine this Ox influence at home, in the context of a family or social network, it is harder to keep your opinions in check when your livelihood doesn't depend on it. It is for this reason that there tends to be many arguments, misunderstandings and confrontations in a non-professional arena.
Financially, people automatically begin tightening their purse strings. There isn't an abundance of resources in 2009 although the list of little jobs that need doing keeps getting longer and longer so careful planning and wise money management is advised.
Although it will be a busy year, the Ox doesn't like to be rushed so a pleasant surprise is that you might have more time to do things then you'd expect. And be patient with everyone around you, the Ox influence is a strong and confident one which could imbue anybody with audacity. Interesting isn't it? Considering this is the one year not to be audacious especially with authority figures? Just have a look at how many dictators were born in this year.
In order to excel in 2009 you should remain respectful and diplomatic even if nobody else is, work hard without expecting praise and keep the finish line in your minds eye. Because actually, that big oaf is much more loving than he would have you believe and he always rewards hard work handsomely. A slow and steady year with no great perks as such, just amazing spirit and a big heart. 2009 is the year of the Ox.
Lianne C
My wonderful interaction happened with Zakariya this past summer in Vancouver Canada. I was intrigued listening to readings he was doing. I quickly realised this man was something special. Upon reading my cards I was taken in by his energy and thoughtful process in delivering the intriguing lessons. I learned about me and situations in my life,past and present. Later in the evening I got to just dit and chat with this electric man. I have kept in touch and hope to have many many more readings. Cheers Lianne C